An anthropological study of change agents in the Dubai business community.
Stepping down from the dais after being on 'the breakfast panel' at the Siegle+Gale 'future of branding', I started chatting with one of the audience who had asked a question about the future of video branding. You could tell this Frenchman was a creative; he looked the part and his passion was evident.
This was my introduction to Gilles G Vidal, the creative director and co-founder of WOW Agency, the video content strategy team.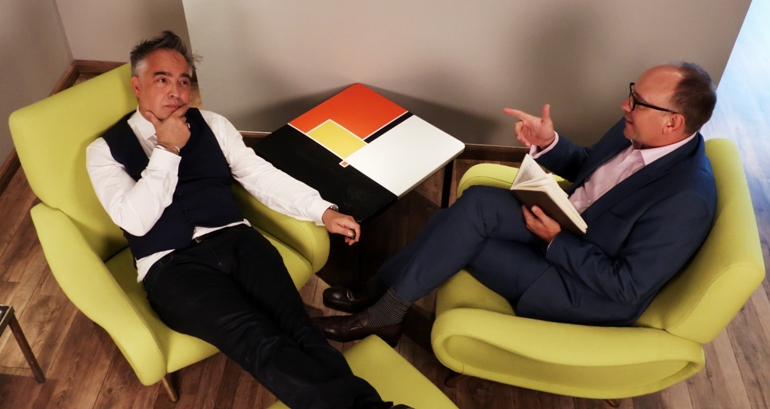 I told him about my upcoming initiative to film business leaders with my smartphone in Dubai asking them a few questions about the future. All of a sudden, he looked serious and asked, "Why don't we do it properly?" He proceeded to tell me about his work to 'interview people in unusual situations, to find something deeper, based on their own personal experiences, less corporate'. And so it came to be.
With thanks to the amazing art sales houses, La Galerie Nationale and Ikonhouse, Alserkal Avenue (Dubai), the first 'On The Couch With' series has now been filmed. The business leaders took a deep breath and looked into the deep recess of their minds for answers. Many were uncomfortable at the outset but most did not want to leave once they got going.
My original plan has transformed, from something of a survey trying to capture the zeitgeist; we now have captured the zeitgeist through a creatively deep, anthropological study. That sounds grand for just 25 interviews, but it's the start of something bigger.
The first part of this study – to be released over coming weeks in partnership with The Arabian Marketer – examines what makes people tick.
To save you the suspense, I'll let you know what we've found. Every single one of the interviewees has a burning passion, a sense of purpose and is charming. It's the middle attribute that makes the real difference. There are many passionate and charming people. But without a sense of purpose, they are lost.
The similarity across the interviewees may be because our anthropological study is flawed: the sample is biased. We invited people we have already met, who we think are interesting and who we thought – from the outside – are driving change within their businesses. There's nothing random about this sample. These people are cherry picked.
Everyone was amused by the notion of work-life balance, echoing a sentiment along the lines of 'if you don't like your job, if you're watching the clock, you're in the wrong job'. Apart from two interviewees who were fiercely pro a division – or balance if you prefer – of work and non-work. And they promote this division actively across their business teams – and use this as a recruitment and staff retention tool.
All the interviewees were prepared for the dark times ahead as business gets tough. They were not teflon-coated in their approach, but humble in so far as they will freely admit that trial and error has been an important part of their growth to date.
Apart from this, there was nothing in common with the interviewees as we discussed themes including self-motivation, the tough business climate, foundations for optimism, attracting talent in this region, what is around the corner – yes they can all see round corners, apparently – and their advice for "the future generation". They were all very individual, to be frank. And that's what makes this an interesting study.